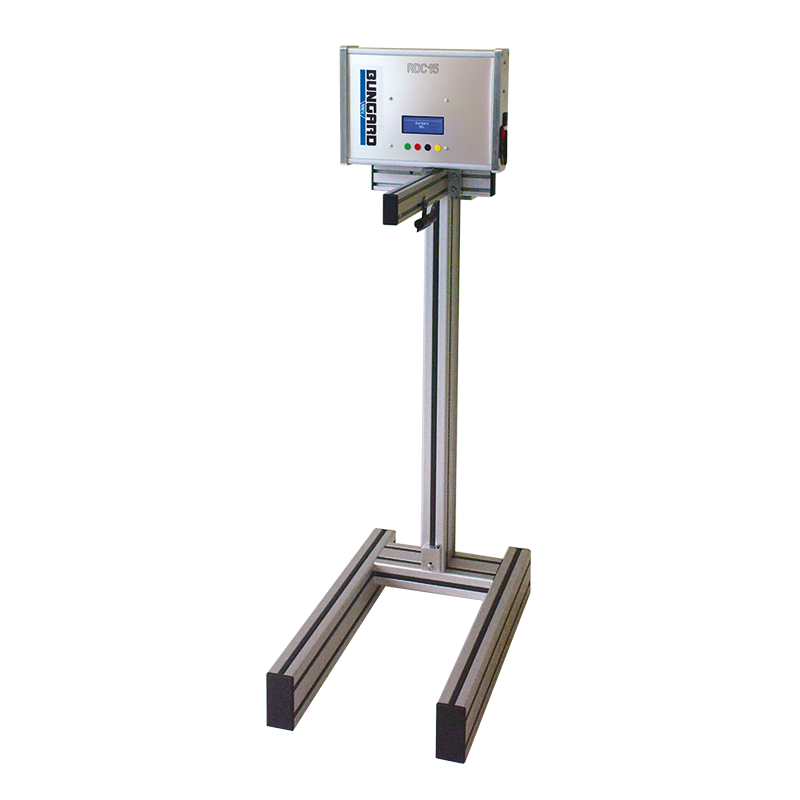 RDC 15 with Stepper Motor Drive
This machine is the successor of the approved gear motor driven RDC 15 and was developed to meet the demand for a greater variety of speeds and settings. It is mainly used for laboratory dip coating of modern liquid photoresists. Today a more and more popular application is also so called: "sol-gel-application". For a even higher variaty of speed settings, we offer also a new type RDC 21 with stepper motor drive (see details below).

 

Features:

Lift bar for several workpiece fittings. The dipping height and the sizes of the aluminium profiles can be easily adapted to even dip-coat bulky items.
The dip coater is working with constant dipping speed. This speed is adjustable between 30 - 10.000 mm/min. The drawing speed determines the thickness of the coating. This speed is as well adjustable from 30 - 10.000 mm/min.
The dipping time as well as the drip-off-time (pause time up and down) is separately adjustable from 0,5 s up to 100 hours.This enables the machine not only to coat but also to precisely develop. This is of great importance with certain photocoatings of the miniature etching technology.
Up to 9 iterations are possible.
Universal power supply enables to work the RDC worldwide with all power systems.
The working range of the lift bar can be adjusted via the control panel. The maximum size of the workpiece is therefore only limited by the maximum lift range of the machine and the size of your cuvette.
On request we built machines according to your specification. Especially the stroke length is easily adaptable.

 

Technical Data RDC 15

Stroke length: 0 - 600 mm
Maximum load: 1,5 kg
Weight: 12 kg
Dimensions (BxTxH): 28 x 47 x 96 cm
Insertion speed: Programmable from  30 to 10.000mm/min
Drawing speed: Programmable from 30 to 10.000mm/min
Dipping Time: 0.5 s – 100 Std
Drip Off Time: 0,5 s – 100 Std
Iterations: Up to 9 times
Power Supply: 100 – 240V;50-60 Hz 1.6 A, 100W

 
 

Dip Coater RDC 21-K

 

Advantages compared to RDC 15:

 

Foil keyboard for easy data entry
Virtual end switch avoids unnecessary drives
Separate speed settings for dipping, coating and positioning drives possible
Stronger Stepper motor enables a 4-times higher load (5 kg instead of 1,5 kg).
Minimum speed down to 1 mm/min. As an option 0.5 mm minimum speed also possible
Parameters are stored for the next job after switching off machine
Controller is tiltable and removeable

Technical Data RDC 21-K

Stroke length: 0 - 650mm
Maximum load: 5 kg (reduced max. speed with maximum load)
Weight: 12 kg
Dimensions (BxTxH): 350 x 500 x 1000 mm
Distance drive up/down: 1 - 9500 mm/min or 0.5 - 4750 mm/min
Insertion/drawing drive: 1-3000 mm / min or 0.5 - 1500 mm/min
Dipping / Drip off Time: 0s – 99h : 59min : 59s
Power supply: 100-240 V, 50-60 Hz, 100 W

 
 

Dip Coater RDC 30 Multidip - New development!

 

Rotary table with 6 cups for multi-coating!
Each dive individually programmable (diving, drawing speed, dipping and dripping time)
integrated magnetic stirrer with programmatic function and speed (1 - 999 1/min)
Diving and drawing speed between 1 - 9500 mm/min
Save this job and job iterations possible

Of course we try to realize your special demands. Please contact us!