Bungard fineline machines at the Electronica 2018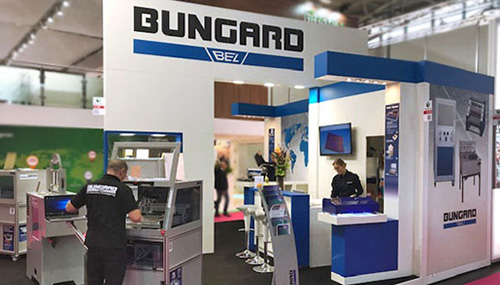 Bungard fineline machines at the Electronica 2018

At this year's Electronica, Bungard Elektronik GmbH & Co. KG exhibited highly successful machines with a focus on Fineline.
The term fineline is understood to mean boards with structures below 100 μm. Such fine structures could previously not or only with huge number of work-arounds produced with laboratory machines Alternatively one had to invest into machines with a higher price of factor 10-50.
Bungard Elektronik GmbH & Co. KG showed with 3 machines that from now on the penetration into the Fineline range is also possible for normal customers.
With the well-known Filmstar PLUS it has been possible for some time to display structures down to 10 μm. This fine resolution could not be used until now in the further manufacturing process.
This has changed now with introduction of this year's 2 exhibition novelties EXP 3040 LED Exposure Automat and Titan 3500 Rotation Etching Machine for Double-Sided Circuit Boards.
The EXP 3040 LED Exposure machine is a further development of the tried and tested EXP8000
For fast, high-precision, double-sided exposure in PCB, cliché, or stencil making
suitable for exposure and curing of solder mask
50W UV LED bulb
extendable vacuum exposure drawer
Line resolutions below 50μm easily possible
Compared to the EXP8000, the EXP3040 LED needs only 1/100 of the energy, at only 1/3 of the weight and at 1/3 of the purchase price!
However, the high resolution in the exposure so far was of no use for the further production processes, since it was impossible to develop or etch the fine exposed structures.
As a reminder: In conventional vertical etching machines, the medium runs down the board. Above a horizontal trace, the copper is rapidly etched away, and below the same trace forms a so called etching shadow. For conveyorized etchers, the resolution at the bottom was very good, but hidden to the operator while on the top the media replacement was slower and the resolution and etch rate were reduced. To reconcile both sides was very difficult for structures below 100 μm. This has now changed with the Titan 3500! The rotating tension wheel etches each trace evenly from each side, eliminating the etching shadow. In our first tests, resolutions of better 50 μm were achieved!
Titan 3500: rotary etching machine for double-sided printed circuit boards
Rotary tensioning wheel for etching high-quality double-sided circuit boards with a high resolution of structures down to 50 μm
Titanium jacket heating controlled by digital thermostat and digital timer
Custom made to your application
In addition to the outstanding news, the drilling and milling machine CCD / ATC and the CCD2 / LDI (laser direct exposure) were also shown in a new housing.
Another attraction was the pick-and-place section of Bungard with the SMT3000.
Furthermore there were again many good and intensive discussions, so that we will cheerfully start into the new year. From Electronica 2018 we returned with a suitcase full of new ideas, cooperation, innovative concepts for future optimizations.
The Bungard Elektronik GmbH & Co. KG team thanks all visitors, customers and representatives and is looking forward to a good cooperation in the new year!