Hellas XL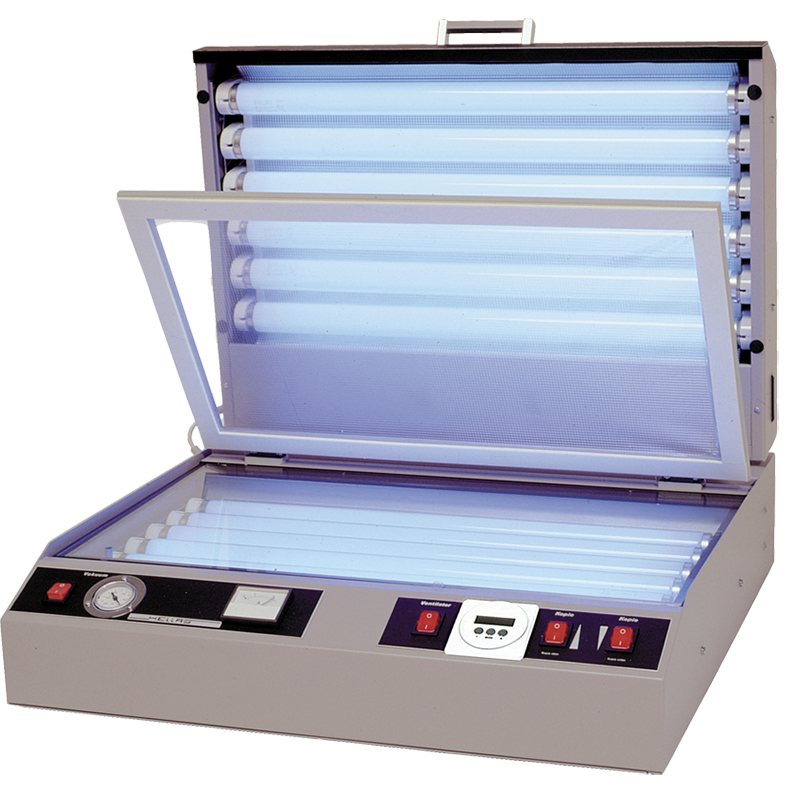 Especially for our customers from the printing industry, we have adjusted our proven Hellas exposure unit. This machine has an enlarged exposure level (570 x 360 mm compared to 570 x 300 mm of the standard Hellas) and 7 super actinic fluorescent tubes instead of previously 6. This ensures a uniform illumination over the entire exposure area.
This greater exposure area fits standard cliché sizes in the printing industry.
Of course, we continue to offer our standard Hellas.
Additional options for the Bungard Hellas
milky vacuum foil for printing cliche applications
Rapid air vent valve for the vacuum frame
Safety lid switch for the top lid
Superactinic fluorescent 36 Watt
Timer with illuminated seven segment display
customized vacuum frame for Dickklichees to 10 mm
2 x 7 superactinic UV -tubes, each 18 W
Special reflectors for minimum undercut

Cut crystal

glass 8

mm

, mounted tension free above the lower exposure area

Exposure area

approx. 570

x 360

mm

Integrated

maintenance-free

high performance

vacuum (80%), with display unit

Special vacuum

foil

, textured,

for

uniform

,

void-free

contact

digital timer

(1 second

-

99 minutes)

with count

-down

, auto-reset and end signal

function

Control of light emission with

a front-mounted

ammeter

Low-noise cross

-flow fan

to cool the lower exposure level, enables

continuous operation

Exposure levels separately selectable via front-mounted illuminated switches

Maintenance-free all-steel construction
Dimensions (LxHxW): 65x68x24cm
Weight: ca. 45 kg
Power supply: 230 V~, 50 Hz, ca. 800 W
milky vacuum foil for printing cliche applications
Rapid air vent valve for the vacuum frame
Safety lid switch for the top lid
Superactinic fluorescent 36 Watt
Timer with illuminated seven segment display
customized vacuum frame for Dickklichees to 10 mm
2 x 7 superactinic UV -tubes, each 18 W
Special reflectors for minimum undercut

Cut crystal

glass 8

mm

, mounted tension free above the lower exposure area

Exposure area

approx. 570

x 360

mm

Integrated

maintenance-free

high performance

vacuum (80%), with display unit

Special vacuum

foil

, textured,

for

uniform

,

void-free

contact

digital timer

(1 second

-

99 minutes)

with count

-down

, auto-reset and end signal

function

Control of light emission with

a front-mounted

ammeter

Low-noise cross

-flow fan

to cool the lower exposure level, enables

continuous operation

Exposure levels separately selectable via front-mounted illuminated switches

Maintenance-free all-steel construction
Dimensions (LxHxW): 65x68x24cm
Weight: ca. 45 kg
Power supply: 220 V~, 50 Hz, ca. 800 W