New! The Bungard Sprint 300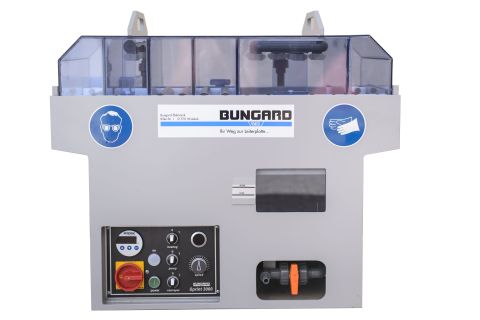 New! The Bungard Sprint 300
Innovative etch technology with horizontal conveyorised system >> Suitanble for all acidic or alcaline etching agents
The shortest conveyorised etching machine with non reduced etching quality!
A perfect solution for laboratories with limited space available
The Bungard Sprint 300 is a full etching and developing machine, just like her bigger sister Sprint 3000.
The system was designed for developing applications, which normally do not require the rinse water treatment via a ion-exchanger. For this reason, the the closed loop rinse after the etching process can dispensed. This makes the machine considerably shorter and a lot cheaper.
The Sprint 300 is also ideal for customers, which think of acquiring a Splash or Jet machine because of their limited space, but who prefer to insert a clean board on the one side of the machine and get a perfect etched but again clean board from the machine on the other side.
The robust design, easy disassembly and thus easy maintainability was not changes nor the nozzle assembly and pump capacity.
Of course, we can also realize special machines with 450 mm or 600 mm passage width based on this short concept.
Please be aware of the fact that for all etching applications the required rinse water for cleaning will increase.
Even less space needed, easy handling, control panel front
Service friendliness: All nozzles with self-adjusting
Bayonet Lock: no readjustment!
Transport: The maintenance-free bevel gear (titanium-PP)
with vertical made as a complete transportation unit
can be easily take out of machine for cleaning
Transport speed infinetly variable from 0-2m/min
Short etching time and high etching precion due to high end spray nozzles arranged in nozzle bar
Machine equipped with filter for etchant
Titanium heater, controlled by digital thermostate with function control
Clean emptying of all tanks via ball valves
Security features: cover switch and emergency stop
Overall size (LxWxH): 800 x 730 x 700 mm

Working width: 300 mm

Power supply: 230 V, 50 Hz, 1,5 kW

Tank capacity: 20 Litre (etchant)

Weight: +/- 70 kg

Water output: +/- 80 l/min brutto

Spray pressure: +/- 1 bar

Working temperature: 0 – 45 °C
Working width: 450mm / 600mm for Sprint 4500/6000
Sensorcontrol for fresh water rinse (motion control)
additional suction hood, swiveling
upper / lower pressure adjustable via cog valve
run dry protection (double security for heater elements)
rack with or without security tray
transmitting height up to 10mm (e.g. for pad printing clichees)
can be supplied with waste water treatment unit
Even less space needed, easy handling, control panel front
Service friendliness: All nozzles with self-adjusting
Bayonet Lock: no readjustment!
Transport: The maintenance-free bevel gear (titanium-PP)
with vertical made as a complete transportation unit
can be easily take out of machine for cleaning
Transport speed infinetly variable from 0-2m/min
Short etching time and high etching precion due to high end spray nozzles arranged in nozzle bar
Machine equipped with filter for etchant
Titanium heater, controlled by digital thermostate with function control
Clean emptying of all tanks via ball valves
Security features: cover switch and emergency stop
Overall size (LxWxH): 800 x 730 x 700 mm

Working width: 300 mm

Power supply: 230 V, 50 Hz, 1,5 kW

Tank capacity: 20 Litre (etchant)

Weight: +/- 70 kg

Water output: +/- 80 l/min brutto

Spray pressure: +/- 1 bar

Working temperature: 0 – 45 °C
Working width: 450mm / 600mm for Sprint 4500/6000
Sensorcontrol for fresh water rinse (motion control)
additional suction hood, swiveling
upper / lower pressure adjustable via cog valve
run dry protection (double security for heater elements)
rack with or without security tray
transmitting height up to 10mm (e.g. for pad printing clichees)
can be supplied with waste water treatment unit