Retrospect of the Productronica 2015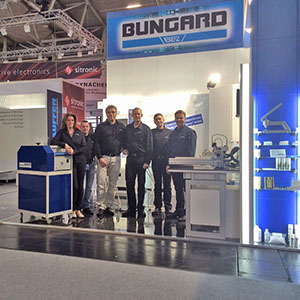 Retrospect of the Productronica 2015
With the motto Special Machines from GERMANY - Customized, from a single source and 100% Made in Germany the Bungard Elektronik GmbH and CO. KG showed on 50 m² the latest developments of the product portfolio.

From the Sprint series a whole production chain could be seen consisting of a brief developer system and a longer etching system incl. rinse options. The production chain made fully functional boards in the course of HANDS-ON events during Productronica.

Many visitors were impressed by the ease of maintenance and the wide range in machine designs, equipment and boadness of the Sprint series and so the great number of visitors, the number of orders and qualified offer wishes was not surprising. The customers were particularly interested in different feeding widths, swiveling hoods, variable length of the etching zones and oscillation of the etching nozzles.

Prior to development and etching with the Sprint a CCD premium with LDI laser exposure head had already exposed the pcbs in detailed structure and sharp contours.

We were also able to present the visitors a fully functional prototype of a CCD3000 that should conquer the markets starting next year. In addition to proven parts, the machine will contain precise and faster electronics, a new dimension in the Z-axis accuracy and tabke planarity and will be pre-equipped many add-on components, so that modules can be user-friendly installed in plug-and-play mode.

With over 500 visitors, orders on complete laboratories, numerous orders on individual machines and countless detailed offer requirements, we are highly satisfied with the Productronica 2015th.

We were very happy to welcome this great number of visitors, potential buyers, customers and resellers, with who we could expands and deepen existing relationships and establish new business relationships. Thank you for your visit!! We hope, in spite of the big amount work to carry out your orders and inquiries as quickly as possible and to your complete satisfaction!