Review Electronica 2016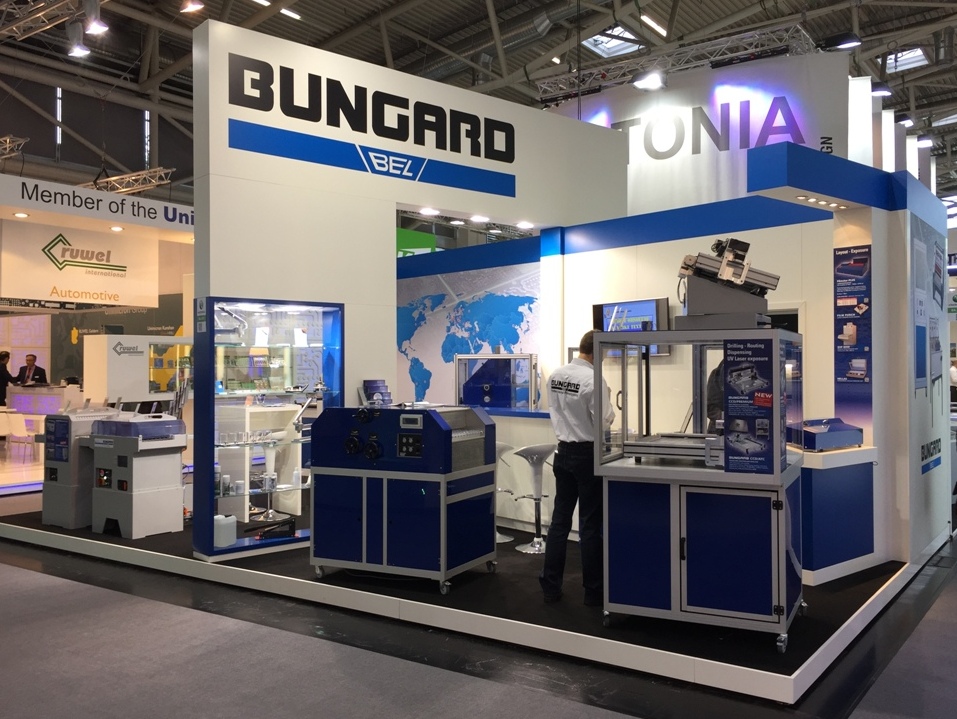 Bungard Elektronik GmbH & CO. KG is very content with results of Electronica 2016.
At this year's Electronica, visitors and resellers were able to take a look at the latest developments of Bungard electronics. With over 400 trade fair visitors this was extensively done.
Particularly popular were the new products from the pick-and-place branch. From this branch of products we exhibited an SMT3000 Plus and a StenPrint3000 stencil printer.
A facelift was presented for the brush machine RBM 402 KF. In addition to illuminated vandalism switches, the display is enlarged and more gives more contrast. An automatic switch-off function for brush and drive could be realized by means of new electronics.
The models Small (approx. A4 plot size) and XL (approx. A3 plot size) were presented for the proven Filmstar PLUS photoplotter for artwork production.
A product that many customers have been waiting for for a long time is the new SprintDryer. The SprintDryer is a horizontal conveyorized board dryer with 3500 W. The SprintDryer can be connected in any way to any type of sprint, with a coresponding dryer available for each throughput width of the Sprint series. Of course, the SprintDryer can also be used with the DL500 or as a stand-alone with or without an underframe and inlet or outlet tables.
In the field of CCD, the CCD/2-Eco is particularly suitable for beginners with a low budget. The machine is interesting because it is inexpensive on the one hand, but on the other hand it has the same high-quality and precise mechanics of all other Bungard CNC machines. In contrast to all other CCDs, this machine is equipped with a low-cost Eco-spindle, which allows speeds of 5,000 - 35,000 rpm.
We would like to thank all visitors for their visit. Only because of your interest and your suggestions, the fair became such a great success. We hope that you enjoyed your visit and are looking forward to your return at Productronica 2017