New Products electronica 2018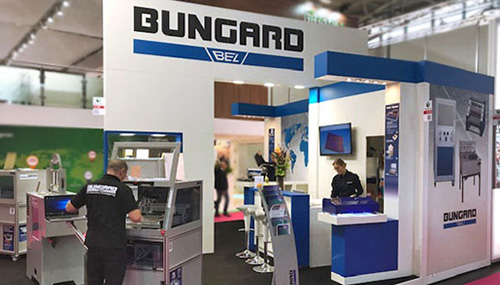 New Products electronica 2018
We present our new Titan 3500 etching machine and the new EXP 3040 LED exposure machine at Electronica.
Digital, additive manufacturing - a new field in electronics
The target of the joint venture project between Bungard Elektronik GmbH & Co KG and peptech is to combine materials and processes for digital and additive production. With this cooperation, we cover the value chain from the material through the process to the digitally manufactured component.


Bungard Elektronik GmbH & Co.KG has been offering classic subtractive circuit board production laboratories 57 years. The selection of base materials and system solutions for printed circuit board production has risen steadily; Bungard Elektronik now has 3500 different products in its range. This means that every manufacturer of samples, prototypes or small series has the basis for fast, flexible and above all realistically produced and error-free PCBs.
Bungard Elektronik would not have remained faithful to its line if they did not offer solutions for all upstream and downstream operations. These include our own automated 2.5 D-CCD solutions for drilling, milling, routing and Laser direct imaging (LDI), including the right software. These systems are now intended to serve in ADDITIVE technology as a carrier for printing and dispensing systems in the future, enabling digital, additive production.
As a partner for the inks the startup peptech could be won. peptech develops functional inks and processes for flexible and printed electronics. The specialty of peptech is Flexinks. Flexinks are printable, mechanically flexible and stretchable, and also electrically conductive.
The joint venture between Bungard Elektronik and peptech aims to synergistically combine digital processes and materials to deliver process reliability and optimized components to our customers.
Have we aroused your interest in this project?
Then we look forward to welcome you to the electronica 2018 trade fair in Hall A1, Stand 420, from 13 to 16 November 2018.